Air Conditioning Services Near Carterville, IL
Keeping Cool in Southern Illinois & Surrounding Areas
When you step into your home or business, it should not feel like a toaster oven on high. When you climb up your stairs, you shouldn't feel like you're ascending into one of those hot yoga classes. And when you get out of your steaming hot shower, you should feel cooler than you did in the water. These are basic principles of functioning air conditioning. If you are suffering from these afflictions or simply the state of being "too darn hot," Charlie's Air Conditioning & Heating is here to help.
We know comfort is key to happy living. For our customers in the Southern, IL area, AC and heating services directly relate to customer satisfaction. That's why we're the best choice for any AC Repairs you may require. That is why if your AC breaks down, we rush to your aid with plans to get you up and running before your family or staff finishes melting.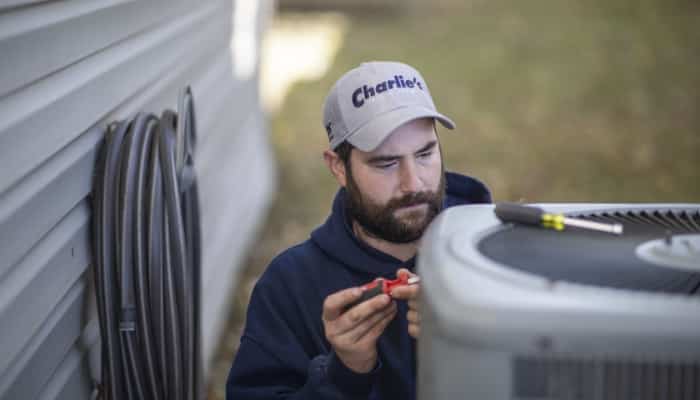 What if I need AC Maintenance or Installation Near Me?
Charlie's got you covered in all directions here. Our AC Maintenance service will keep your air conditioner running for far longer than an unmaintained or poorly-maintained unit. Having a tech go over your unit before the warmer months can also prevent unexpected and expensive repairs.
Even with regular maintenance and repairs, every AC unit or HVAC unit has a limit to its lifespan. If your air conditioning is over 10 years old, you may want to start considering a replacement, requiring installation of a completely new system.
One secret that all HVAC installers know is that the lifespan and number of repairs required by a unit can be radically altered with skilled installation services. Evaluating your space, your conditioned air needs and other factors will allow our technicians to install your unit properly so that when you tell your family or staff that the new unit is in and everything is going to run smoothly, you'll be telling them the truth.
Call Charlie's Air Conditioning & Heating at (618) 985-2502 today for the best AC service in Southern Illinois.