Heating Repair Near Carterville, IL
Charlie's AC & Heating - Your Heat Pump & Furnace Repair Experts!
It's late on a winter night and you're considering a third pair of socks. A quick check of your thermostat confirms your suspicions: your heat is broken. You check the breaker and try to get your furnace or heat pump working again — and when that doesn't work, then what? If you're in Southern Illinois near Carterville, Marion, Carbondale and beyond, you can call Charlie's Air Conditioning & Heating. We'll show up with priority service to rescue you from a broken heater.
Charlie's Air Conditioning & Heating can provide expert diagnosis and repair the day or night you call. You'll be glad you called us when you meet our knowledgeable technicians for whom some of these repairs are a frequent task. However, at Charlie's your repair is just as individual as you are. Our vigilant HVAC repair staff will get to the bottom of your heating issue depending on your personal circumstances.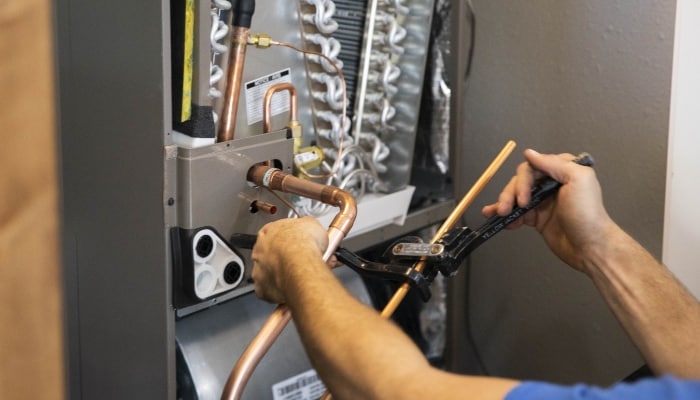 Common Signs Your Heating System Is Struggling
Heating breakdowns can be sudden, but they can also give off signs that they are falling into disrepair.
Inaccurate temperature: If you are continually setting the thermostat to 74 and find that the actual temperature is in the low 60s, you should call us.
Dusty, unpleasant air: Think of this as your unit's dying cough. If your heating system is expelling dust into your air, or if the air has taken on an unpleasant odor, there's a good chance you'll be needing a repair.
Age: No matter how well-maintained your equipment is, as it ages it's bound to break down more often. When your heating unit is past 10 years of age, it's time to start weighing the costs of frequent repairs against the cost of a new heater.
Noises: HVAC systems have numerous components that can make a fuss. The blower motor, the compressor and more can create loud sounds that you'll easily recognize as something being wrong.
Unexpectedly high bills: If your energy bill increases significantly and there's no good reason for it, the poor energy efficiency means your heating system is crying out for help. Call us to rein in those utility costs today.
Call Charlie's Air Conditioning & Heating at (618) 985-2502 today if you suspect you're in need of a repair. Remember that we can also help you outside of business hours if you need an emergency repair. We aim to satisfy every customer 100%.