Heating Services Near Carterville, IL
Charlie's, The Chosen Heating Company - Carterville, IL & Beyond
Whether you're a person who thrives on heat or someone who loves a brisk walk in the fall weather, heating isn't really an option for your Southern Illinois home. With winter temperatures dropping below freezing in the coldest part of the year, keeping the pipes under your house from freezing is one main reason you can't go without manufactured warmth.
To avoid a comfort disaster, trust Charlie's Air Conditioning & Heating to match you with the ideal heating system for your business or family. With our expert installation and maintenance services, it's rare you'll need a repair, but if you do, you're in luck, because we're pretty great at those as well. Plus, we have after hours emergency service if your heating emergency doesn't fall within the business day.
Charlie's Air Conditioning & Heating has been in business for over 30 years, and as you could imagine, that success doesn't come from overcharging for repairs or doing slapdash maintenance work. If you need a HVAC unit, you need a repair on your current unit or you are looking for maintenance for your unit - Charlie's Air Conditioning & Heating has it all.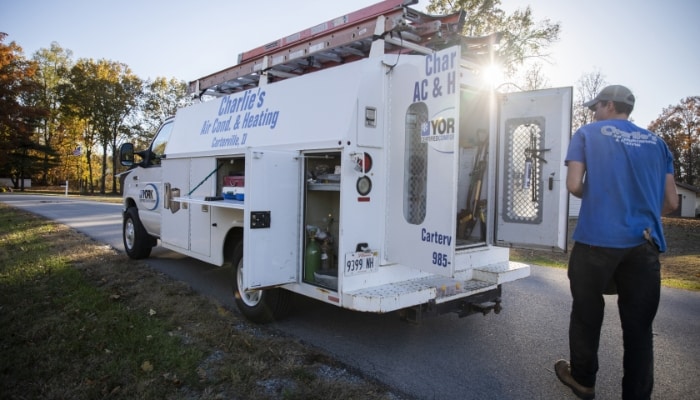 Our Heating Services Keep Your Furnace and Heat Pump Warming
Repair needs? We'll be right there, helping to determine the cause of the heat pump or furnace repair and the most efficient, economical way we can make the problem right for you while making your HVAC system safe for your entire home or business.
Maintenance from Charlie's Air Conditioning & Heating will give your heating system better performance and a longer life. Annual maintenance visits can prevent costly repairs for your furnace or heat pump and lengthen the lifespan of your HVAC unit by up to five years!
Installation wishes and low utility bill dreams? You never want to let an amateur install an HVAC system. Poor installation of your furnace or heat pump can cause the need for costly repairs and can put your home at danger of fire. It can also damage the actual HVAC unit, costing you a terrific amount for very few results. A professional installer can put your new heating unit in place and ensure that it runs efficiently, saving you time and money in the long run.
To save on repairs, maintenance and installation while receiving the most professional service available, call Charlie's Air Conditioning & Heating today. (618) 985-2502