Heating Maintenance Near Carterville, IL
Charlie's AC & Heating Will Keep Your Furnace & Heat Pump Working In Southern IL
Think of your heating system as a houseplant. Without regular attention, your plant will wither and die. While it's unlikely your HVAC will actually whither, it might die or at least require expensive repairs that would not be needed if the heating system had regular maintenance from a professional.
If you're in the Carterville area around Southern Illinois, you're lucky to have the expertise of a company that has been serving your area for over 30 years. This means that we know things younger technicians may not have learned yet, as well as many tricks of the trade that come only with time and experience.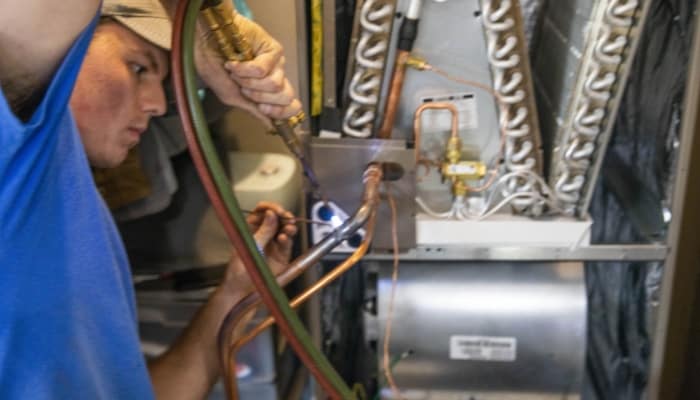 Heating Maintenance: Why Does It Matter?
The first and in some cases best reason to maintain your heating system is that you lengthen the life of your heater. Instead of having to place your unit in less than ten years, your heating system could far outlive its life expectancy (13-15 years) saving you money in replacement or large repairs.

Maintenance will also prevent costly, unexpected repairs that can significantly alter your budget for the winter months. Essentially, by maintaining your heating system you are being proactive, nipping problems in the bud before they are full blown expensive repairs.

When you maintain your heater, you ensure the air you're breathing in your home is not full of particulates and dust. You also ward off problems that will definitely worsen with time.

Another reason to maintain your heating system is savings. As your system becomes more encased in dust and particles, it works less efficiently, performing more work for less warm air. This overwork causes your utility bills to swell and again, you are receiving less heat for more money.
What *Is* Heating Maintenance by Charlie's AC & Heating?
To ensure your system is in good working order our technicians will inspect and replace the filter, the inside of the system, they will clean out any dust or filth that hampers your machine's efficiency and check for potential mechanical problems to ensure the system isn't on its way to needing a repair.
Charlie's Air Conditioning & Heating recommends tending to the heater before the cold season each year. Keep in mind that if your system is unsalvageable, we can replace it with a new system immediately to prevent you from discomfort and the fire risk from space heaters.
Let us talk to you about maintenance and how it could benefit your particular situation. Call (618) 985-2502 today.